International Student Graduation Celebration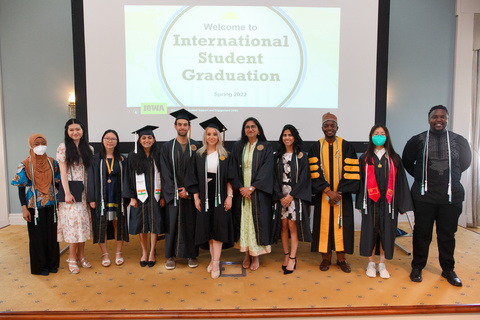 This graduation event is held each year to celebrate the countless achievements of our international students and their accomplishments in reaching graduation.
All spring, summer, and fall 2023 graduates are invited to participate and the entire Iowa community is invited to attend. The graduation will include a student speaker, reading of names and conferral of affinity cords, and a reception with light refreshments following the celebration.
When: Thursday, May 11, 2023, 3:00 - 5:30 p.m. CT (with reception afterwards)
Where: Graduate Hotel, Wayne Ballroom
Graduate registration:
Registration is closed.
Award nomination:
During the graduation, we will also recognize graduates with awards dedicated for international students.
Award nominations are closed.
In addition, as a reminder, if you are in F-1 status and wish to use Optional Practical Training (OPT) after graduation, please apply early! Visit this page to learn more about OPT and come and talk to one of the ISSS advisor with more details of your application during walk-in hours.
We are looking forward to celebrating this incredible milestone with you. If you have any questions regarding the International Student Affinity Graduation, please contact isse-dsl@uiowa.edu.
Sponsorship
The International Student Graduation is planned by a campus wide planning committee consisted of students, staff, and administrator. This graduation is a collaboration between International Programs, Division of Diversity, Equity, and Inclusion (DDEI), International Student Support and Engagement (ISSE), and is made possible by support from Carver College of Medicine, College of Dentistry, College of Education, College of Engineering, College of Liberal Arts and Sciences, College of Law, College of Nursing, College of Pharmacy, Graduate and Professional Student Government, Graduate College, Tippie College of Business, and University Libraries.
Individuals with disabilities are encouraged to attend all University of Iowa-sponsored events. If you are a person with a disability who requires a reasonable accommodation in order to participate in this program, please contact Shuhui Lin in advance at (319) 335-0335 or shuhui-lin@uiowa.edu.