Since its inception in May of 2000, Rainbow Graduation has celebrated the achievements of lesbian, gay, bisexual, transgender, and queer students, as well as their advocates.
This annual event honors both undergraduate and graduate/professional students who graduate in the Fall or Spring semester. Rainbow Graduation features UI faculty, staff, students, and community members, and is followed by a reception.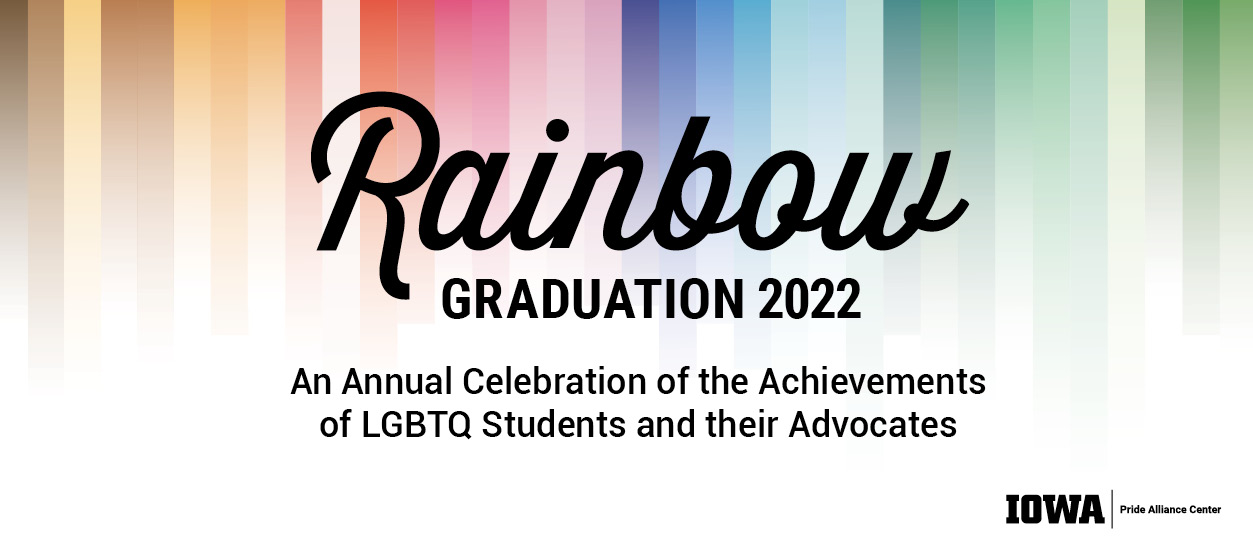 Rainbow Graduation Ceremony 2022
Tuesday, May 10, 2022 | 6:30pm
Location: Old Capitol Museum
Reception to follow
Livestream will be available on our Facebook page and our Instagram.
Dear 2022 graduates,
Many congratulations on your quick approach to graduation! We are excited to highlight YOU and your accomplishments. Following the ceremony, we will have a reception with refreshments and photo opportunities. In addition to the graduation ceremony, we will have an opportunity for you to participate in a social media graduate spotlight.
If you wish to be acknowledged privately rather than publicly, we are happy to do so!
Graduates, please register by Monday, April 25, 2022. In this registration form, you will be able to identify ways in which you want to be celebrated.
Rainbow Graduation 2022 is in partnership with the Pride Alliance Center, Multicultural and International Student Support and Engagement, the Office of the Vice President for Student Life, Division of Student Life, and Center for Advancement.