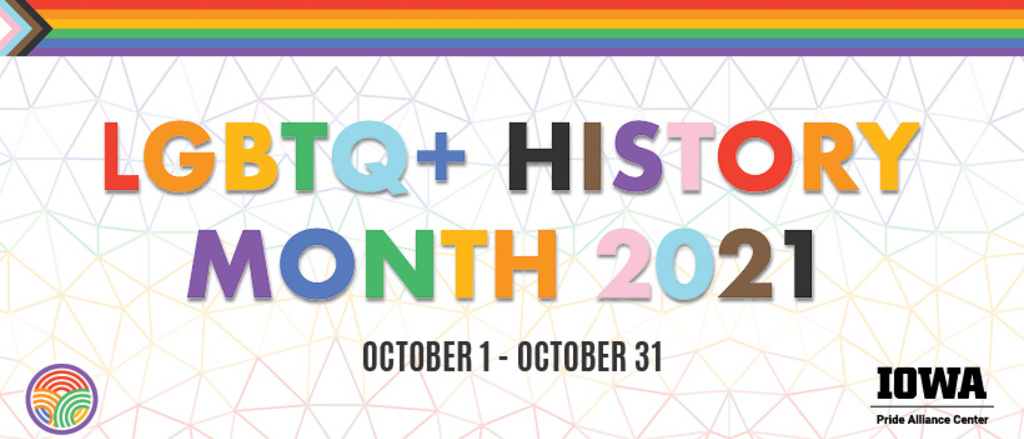 LGBTQ+ History Month is a month-long celebration that occurs in October to observe lesbian, gay,bisexual, transgender, and queer history. It also honors the history of gay rights.
LGBTQ+ History Month was first celebrated in the United States in 1994, centering National Coming Out Day, which occurs annually on October 11th. This celebratory month was originally known as Lesbian and Gay History Month, and additional identity acronyms were added over time to increase inclusivity of LGBTQ+ communities. Gay and Lesbian Pride Month is also celebrated in June.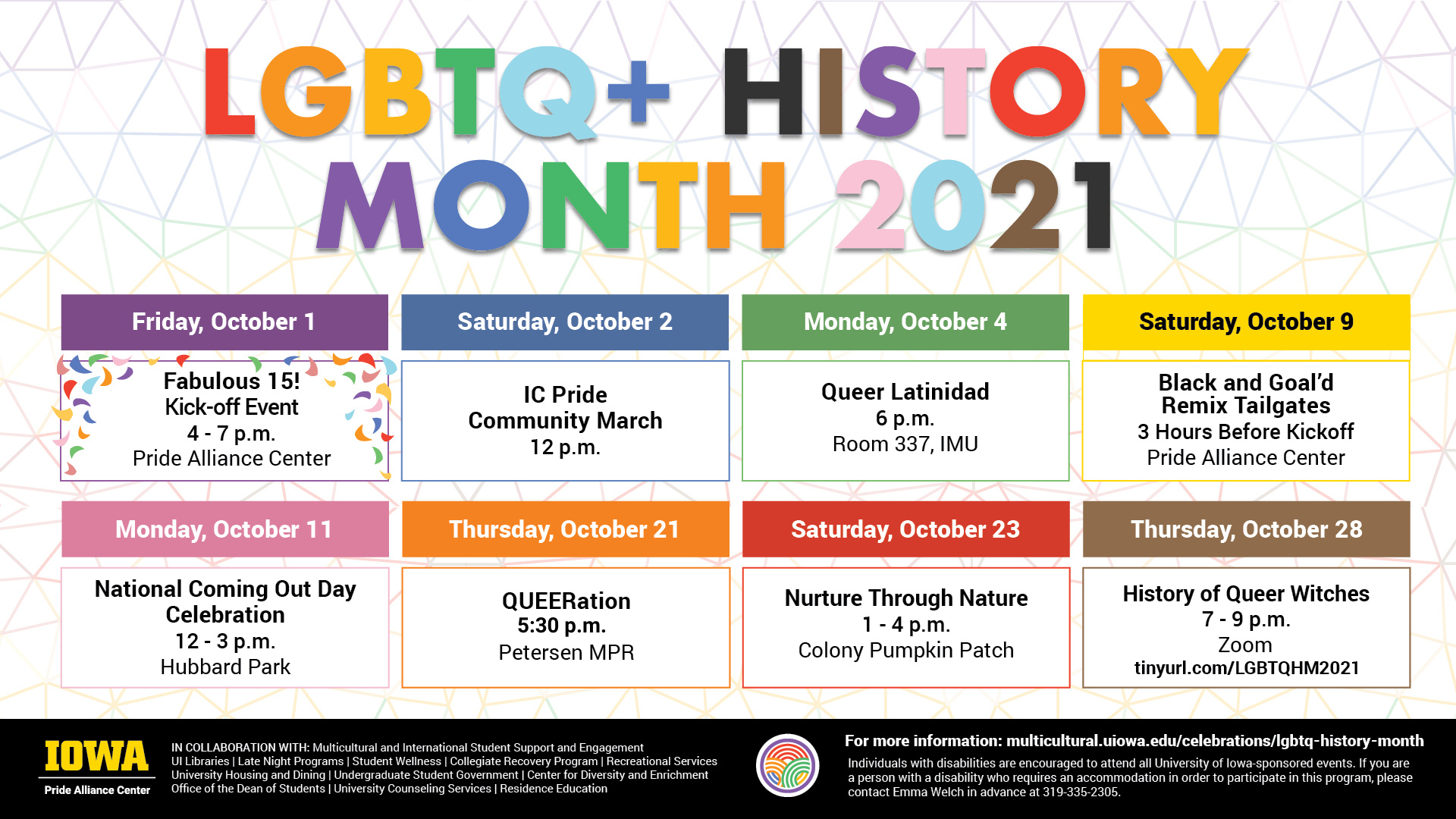 Fabulous 15!
Friday, October 1, 2021 | 4:00-7:00pm
Pride Alliance Center (outside)
In addition to celebrating LGBTQ+ History Month, October also marks the 15th anniversary of the Pride Alliance Center. We are kicking off the month with a birthday party! Come join the fun to learn about local LGBTQ+ history, enjoy crafts including button-making, and eat delicious food!
IC Pride Community March
Saturday, October 2, 2021 | 12:00pm
The University of Iowa Pride Committee, the Office of the President, and University Human Resources are proud to be sponsors of the 50th Anniversary Iowa City Pride Festival, and we invite all UI-affiliated allies and members of the LGBTQ+ community to join us in the Community March. If you would like a UI Pride t-shirt see pick-up instructions below, as well as instructions on when and where to meet for the march.
*All events are free and located in downtown Iowa City beginning Friday night, October 1, and all day Saturday October 2, with a vendor fair, community march, and a mainstage with performers. All attendees are being encouraged to wear masks and maintain social distancing.
Queer Latinidad
Monday October 4, 2021 | 6:00pm - POSTPONED
337 IMU, Multicultural Greek Council Room
In collaboration with the Latino Native American Cultural Center (LNACC), join this engaging student-led painting activity with dialogue. This is an annual event we look forward to every year!
Black & Goal'd Remix Tailgate
Saturday, October 9, 2021 | 3 hours before kickoff
Green space outside Pride Alliance Center
We're back with more substance-free tailgate opportunities! We have yard games, food, soda, and water, all for free! This tailgate series is ongoing throughout the Fall semester for every home game except Homecoming. Come join the fun!
National Coming Out Day Celebration
Monday, October 11, 2021 | 12:00-3:00pm
**MOVED INSIDE DUE TO RAIN**
Iowa Memorial Union, Room 103A, River Room I
National Coming Out Day (NCOD) is the benchmark date that made October LGBTQ+ History Month. Celebrate yourself and/or a loved one at this event. by taking a photo (or video) with the NCOD door, waving an identity flag (or a few), and/or painting your own door knob hanger.
QUEERation
Thursday, October 21, 2021 | 5:30-8:00pm
Petersen MPR

QUEERation is an annual event that celebrates art made for and by the LGBTQ+ community.
This year, we will be welcoming Artivist, Daniel Arzola as our workshop leader.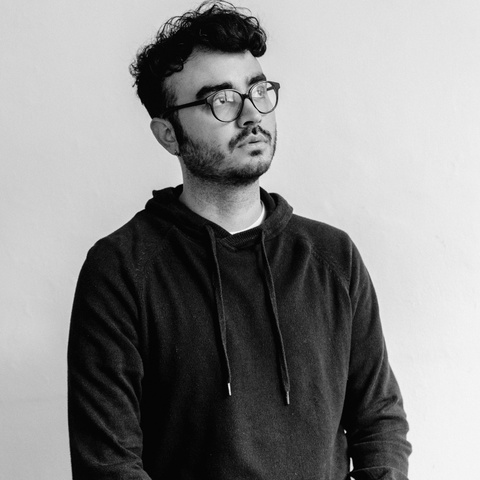 Daniel Arzola is a visual artist, human rights activist, and lecturer whose contributions to the LGBTQ community were recognized with the Trailblazer Honor Award given by Logo TV. The American publication Americas Quarterly also included Daniel in its list of top 5 influential artists in Latin America.

Daniel popularized the term Artivism as the creator of No Soy Tu Chiste (The I'm Not a Joke Project), a series of posters that challenge homophobia and transphobia.

His work has been translated into twenty languages and supported on social media by the American singer Madonna.
Daniel will lead an engaging workshop for QUEERation using the Theory of Artivism. Daniel will also share his experience as a queer person growing up in Venezuela and how his work is a response to his experiences. All are invited to attend this workshop, and masks are strongly encouraged.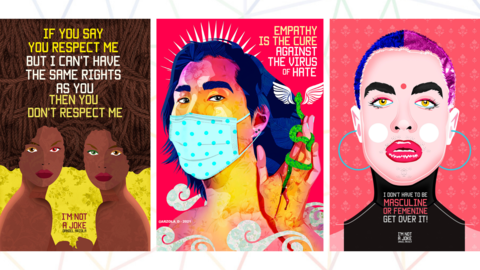 Nurture Through Nature
Saturday, October 23, 2021 | 1:00-4:00pm
Colony Pumpkin Patch
Hay there, Pumpkin - You are invited to join us at the Colony Pumpkin Patch! We have 20 tickets available for students, on a first-come, first-serve basis. We will also be providing transportation for up to 16 people!
History of Queer Witches
Thursday, October 28, 2021 | 7:00-9:00pm