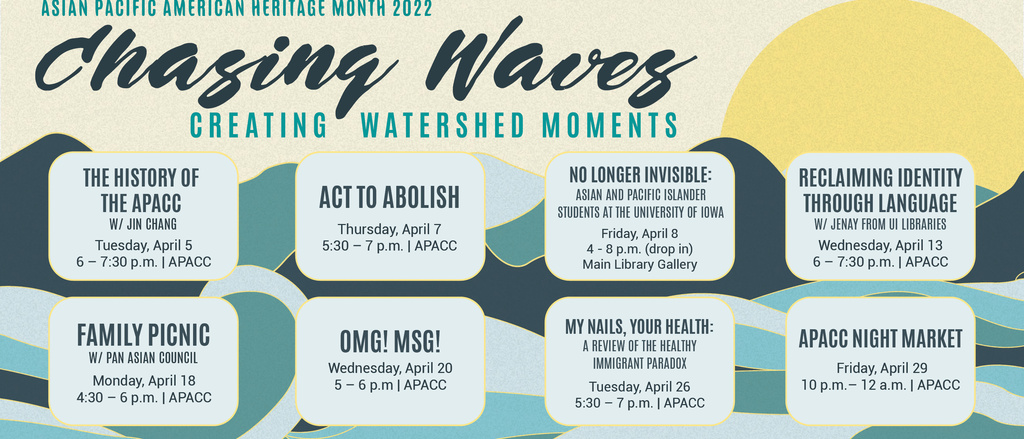 Asian Pacific American Heritage Month
Asian Pacific American Heritage Month is celebrated nationally during the month of May to commemorate the first immigrants who came from Japan on May 7, 1843. This month is celebrated in April at the University of Iowa and pays tribute to the contributions generations of Asian and Pacific Islanders have made to American history, society, and culture.
2021 Theme
The theme for this year's celebration month is Initiating Introspection: An Exploration of the Asian American Pacific Islander Identity. We hope to spend this month learning about ourselves, our histories, our motivations, and all of the aspects that make us unique. We will do this by hosting dialogues on Asian Masculinities on campus, Anti-Asian sentiments and harm through history, the impact of Cultural Centers on campuses, celebrating food through Mukbang Mondays, hosting a moderated conversation with Cathy Park Hong, and much more! Ready for take off? Click through our events to initiate introspection!
2021 Celebration
Click for Zoom Background Here
APACC will host weekly Mukbangs on Monday that will be shared on our Instagram Account. 
This year APACC will be hosting a pen pal program that anyone is welcome to join and continue with a match that we help make! 
APAHM Virtual Visits
All Virtual Visits are hosted on Discord
Monday
12-3pm
Kayla
 
Tuesday
1-4pm and 6:30-7:30pm
Michelle and Janell
Study Time and Support Spaces
Thursday
3-6pm
Joseph and Lisa

Funtime!

W/Pride Alliance Center 4/15 and 4/29

Friday
10am-3pm and 7-8pm
Douglas and Demi
Tune In and Music Review
Keynote
This year APACC is excited to bring poet, writer, professor, and UI Writer's Workshop alumna Cathy Park Hong. Cathy Park Hong will engage in a moderated conversation with members of the University of Iowa focused on her book, Minor Feelings: An Asian American Reckoning (2020).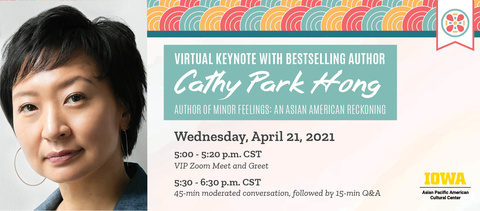 What is Discord?
Discord is an online platform APACC uses for Virtual Visits, events, and community building. Discord allows you to come in and out as you please, interact via text channel, voice channel, or video. You are able to interact in any channel with anyone present. To gain access, email prisma-ruacho@uiowa.edu.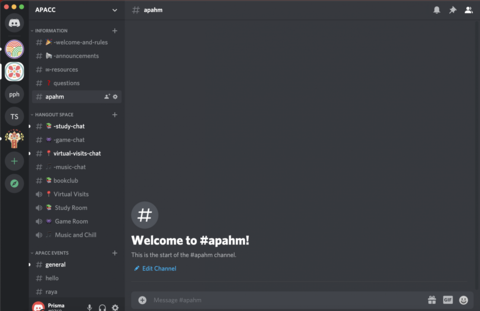 Upcoming Events
There are currently no events to display.