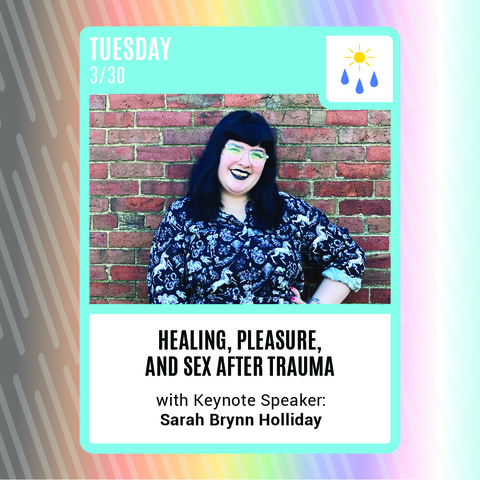 Sarah Brynn Holliday (they/them) is a sexuality writer, speaker, and sex toy company consultant based in Salem, Massachusetts. Sarah is the Femme-in-Chief at 
formidablefemme.com
, where they write about trauma and sexuality, navigating the world as a non-binary queer femme, and the sex toy industry. Sarah was featured on MTV News in 2019 and has spoken at numerous colleges across the United States.
Workshop: Healing, Pleasure, and Sex After Trauma
When: Tuesday, March 30, 2021, 7:00-9:00pm CT
Registration is required: tinyurl.com/PrideWeek21Keynote
Workshop description

How can we reclaim pleasure after trauma? What can sex, intimacy, and masturbation look like after trauma? In this workshop, we'll explore how survivors can craft our own individualized paths toward healing outside of traditional narratives that neglect sex and sexuality. We'll talk about positive motivations and affirmations for sexual healing, using sex toys as a tool to heal from trauma, self-care tips for survivors, and finding sex-positive community support. All trauma survivors are welcome for this workshop. Sarah's work is informed by an inclusive definition of trauma that recognizes many types of traumas can affect sex and pleasure — including sexual trauma,
chronic illness, death, pregnancy loss, religious trauma, systemic violence and oppression, etc.
We are grateful to the Rape Victim Advocacy Program (RVAP) for their support in this event. There will be a confidential resource present in the case that anyone should want 1:1 support.
Individuals with disabilities are encouraged to attend all University of Iowa-sponsored events. If you are someone with a disability who requires reasonable accommodation in order to participate, please email Emma Welch at emma-welch@uiowa.edu.